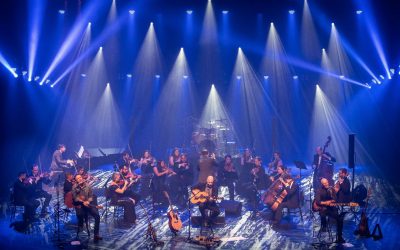 O "Rural Expresso and Camerata Florianópolis Tour" will pass through Ademir Rosa Theater, Integrated Culture Center (CIC), on December 1st. The second stage of this major production will take place in March 2024. The project was made possible by Culture Incentive Program (PIC), do State government, via Santa Catarina Culture Foundation.
Fans of Camerata and Expresso will watch a revisited show, without losing the essence of the union and the musical quality that is known by a large part of the public in Santa Catarina. And of course, lots of news. The show has been expanded and will have new arrangements and the inclusion of new songs by the Group.
One of the most anticipated songs, "Certos Amigos", received new arrangements by pianist, composer and musical director, Luiz Zago. Two other new songs become part of the show's setlist: "Lua Cirandeira", by Daniel Lucena, made in 1981 and unreleased, and "Cheiro de Mato", by Zeca Petry and Silênio Oliveira. And two songs released and recorded in 2017 on the DVD in partnership "Camerata Florianópolis and Expresso Rural" are also part of the show: " Nosso Tempo foi Assim " and " Brincadeira de Quintal ". The other songs are all those that Expresso has established over more than 30 years of career and that the public always asks and expects to be played.
At the show, a tribute that will certainly move the audience. One of the founders of the Expresso Rural Group, Daniel Lucena, who passed away during the pandemic, will be represented by his niece, the singer Manoela Lucena, who will make a special appearance to remember her uncle and all his professional and emotional connection with Expresso Rural.
Start: 01/12/2023 20:30
End: 01/12/2023 22:30
Values: R$10 (full) and R$5 (half).
Photos used: Tóia Oliveira / publicity.
---