Will you disembark in Floripa soon? In this section you will find everything about Hercílio Luz International Airport: taxis in Florianopolis, airport parking, flight schedules, options for Vans and Transfers, services of Car Hire in Florianopolis, functioning of bus lines that can be used to move to other regions of the city and the distances from the airport to all beaches in Floripa.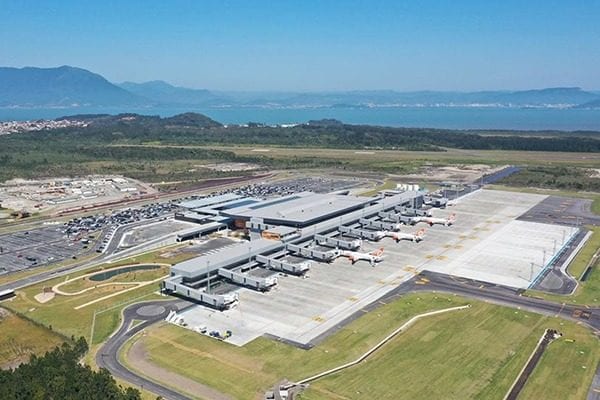 flight schedules - Check here the main airlines that operate in Florianópolis, and also the schedules on the Infraero website.
With the great tourist demand for Florianópolis in the last summer seasons, the city's international airport, the airport, has become one of the busiest in domestic and international services in Brazil. In 2022, passengers who used the island's airport elected it, and for the third time, as the best airport in Brazil, according to a survey by the 2022 Aviação + Brasil Award, which identifies the best airports and national airlines according to the opinion of passengers.
Since January 2018, the airport has been managed by Floripa Airport, a subsidiary of Zurich Airport, also responsible, in Brazil, for the management of Macaé and Vitória Airport.
With the new management, the Hercílio Luz International Airport underwent an intense renovation and increased its capacity to receive 8 million passengers a year.
Open 24 hours a day, the Pet Place, a free space for passengers and visitors to bring their animals, is an option and is located in front of the terminal, next to Boulevard 14/32 and close to the parking lot. The space has a drinking fountain, with filtered water, and other equipment for the animals.
Central phone: (48) 3331-4000.
Infraero Information Desk: (48) 3331-4016 / 3331-4038.
Website: https://floripa-airport.com/
Airport Complex
Landing and take-off runways:
Main (14/32): length of 2.400 m and width of 45 m. Pavement type: asphalt. Resistance (PCN): 48/F/B/X/T
Auxiliary (03/21): length of 1.500 m and width of 45 m. Floor type: concrete. Resistance (PCN): 26/R/B/X/T. Capacity (mov/h): 22.
Terminal area: 49.000 m².
Commercial area: 5.000 m².
Check-in counters: 45.
Departure gates: 13.
Departure bridges: 10.
Baggage claim mats: 8.
Distance to the city center: 15 km.
Two floors, one for boarding and one for disembarking.
10 fingers to connect passengers and aircraft.
O parking includes 2.580 vacancies.
Check-in: number of counters - 45 positions.
Baggage claim belts: 8, being 2 international, 5 domestic and 01 reversible.
Departure gates: 13 boarding gates, 2 of which are international, 11 domestic.
Parking

We made a special page with all the details of the Parking at Hercilio Luz Airport.
Voos
Check out flight schedules in Florianopolis .
Distances
We created a scheme with the distances from the airport to all the beaches of Florianópolis. And also to the Bus Terminal, the nearest hospital, the main hotel chains and the city's Convention Center.
Shipping cost
To leave the airport, we have selected all the ways: conventional and executive bus, Taxi, Transfers and Car Rental. See all the details.
See options for taxis in Florianopolis.
facilities
fun and food
Various stores (souvenirs, clothes, bags, leather, Brazilian stones, magazines, newspapers, books). Duty Free shop in the international arrivals terminal. Cafes, restaurants and fast food. TAM VIP room. Tourist information desk.
Health and hygiene
Baby changing room, toilet adapted for people with special needs, first-aid station.
Security
Surveillance cameras, metal detectors, carry-on and checked baggage x-rays, fire department, emergency volunteer corps, Emergency Operations Center (COE), electrical generators, lost and found. Protec Bag - packing of bags and packages in general.
Public services
National Civil Aviation Agency (Anac) / (48) 3331-4079
National Health Surveillance Agency (Anvisa) / (48) 3331-4270
Ministry of Agriculture / (48) 3331-4109
Federal, Civil and Military Police / (48) 3331-4164
Federal Revenue / (48) 3331-4219
Children and Youth Court / (48) 3331-4155
Airport reception / (48) 3331-4000
Beaches
Discover the vocation of each region on the page Leisure in Florianopolis.
Server hosting
Find what you are looking for on our special page Accommodation in Florianopolis.
Road transport
See also our page with information about road and companies who work in Florianópolis.
Distance from the Airport to the Bus Station: 11 km.
Address
Rod. Access to the Airport, nº 6.200 - Neighborhood Carians.
Florianopolis, SC, Brazil
ZIP code: 88047.902
See location on map
ADVERTISING