Bom Jesus Waterfall - Florianópolis Beach
Região: north of the island
Subdivision: Bom Jesus waterfall
Nearby beaches: Canasvieiras beach (2 km west) | Ponta das Canas beach (2 km north) | Ingleses Beach (6 km east)
Distances: Centro e Bus Station 31 km | Airport 40 km
Beach Type: shallow beach (fine sand and depth slowly increases)
Curling: Calm (no waves) and Median (with small waves)
Sand range: Video (between 10 m and 20 m) and Long (above 20 m)
Beach Length: 2,9 km
water temperature: Moderate
Also find: water sports, fishing


A Cachoeira do Bom Jesus Beach it is the right destination for many Florianópolis residents and tourists during the summer.
neighbor of Canasvieiras quality Ponta das Canas, the beach offers a beautiful view combined with a wide network of tourism and leisure services.
Accommodation, restaurants and commerce in general guarantee the comfort of those who live or visit the region, making it not necessary to travel to other places to find what you are looking for.
The waters are calm and the sand is good for walking and playing sports. These characteristics make the beach a pleasant environment for family fun, with children and the elderly.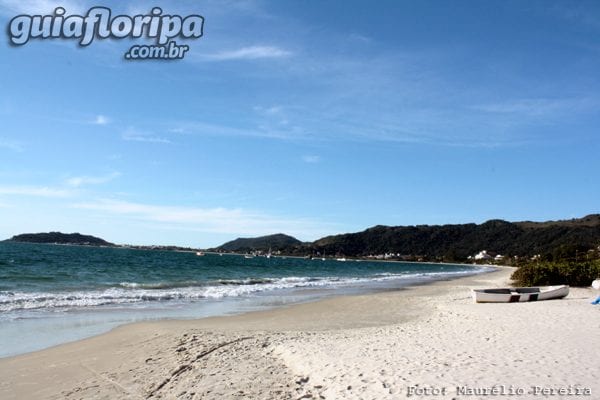 Very popular among tourists from the Southern Cone, Praia da Cachoeira brings together different nationalities and cultures during the summer.
---
ADVERTISING
---
Natural Features of Praia da Cachoeira do Bom Jesus
With 2,8 km in length, Praia da Cachoeira do Bom Jesus has a sea with green and warm waters and low waves, typical of bays and sheltered areas. The seabed has a very gentle slope, making it possible, depending on the time of year and weather conditions, to safely advance several meters into the water. This makes the beach classified as shallow beach.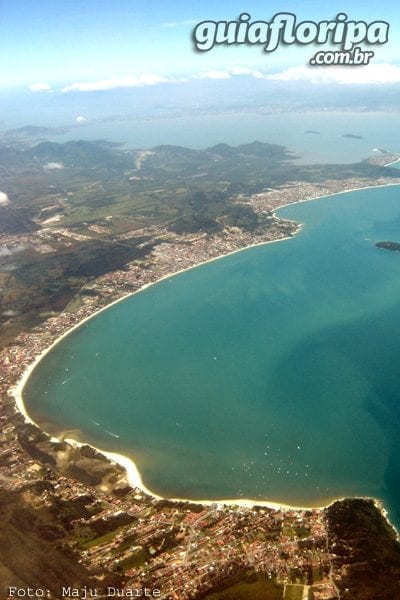 No geographic feature separates Cachoeira beach from Canasvieiras and Ponta das Canas beaches. This makes the shore offer more than 10km of clear, fine and hard sand, ideal for walking. By convention, to the west, the mouth of the Rio do Braz is the dividing point with Canasvieiras beach. To the east, it is not possible to determine the exact point that separates it from Ponta das Canas beach.
---
ADVERTISING
---
History of Praia Cachoeira do Bom Jesus
The history of Praia Cachoeira do Bom Jesus is directly related to the development of the neighborhood Canasvieiras. The village of São Francisco de Paula das Canas Vieiras was founded in 1835. The local economy revolved around fishing and agriculture. Cassava, sugarcane, onions, rice and coffee were produced, part of which met the needs of families and the surplus was sold in neighboring districts or in the center of the city.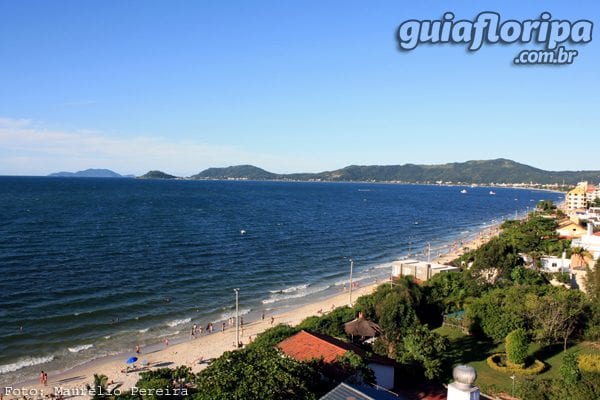 With the construction of SC 401 and the growth of tourism in the region, from 1970, the infrastructure at Praia Cachoeira do Bom Jesus underwent a modernization process, attracting a greater flow of tourists and investments in the area of ​​civil construction, especially in subdivisions. Since then, it has been expanding progressively, having first started as a beach dependent on the services of Canasvieiras, but which soon established itself as a center for tourism, leisure and services. Today, there are more than 3.500 inhabitants in the region.
Accommodation at Praia da Cachoeira do Bom Jesus
Consult hotels, inns and other accommodation options in Praia da Cachoeira do Bom Jesus partners of the Guia Floripa Portal.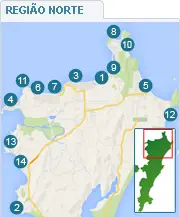 Bom Jesus waterfall
other regions
Looking for beaches in other regions of the island? Visit the links below:
ADVERTISING