The video premiered this Monday (25) and continues the calendar of news that the trio from Palhoça has prepared for the coming weeks
---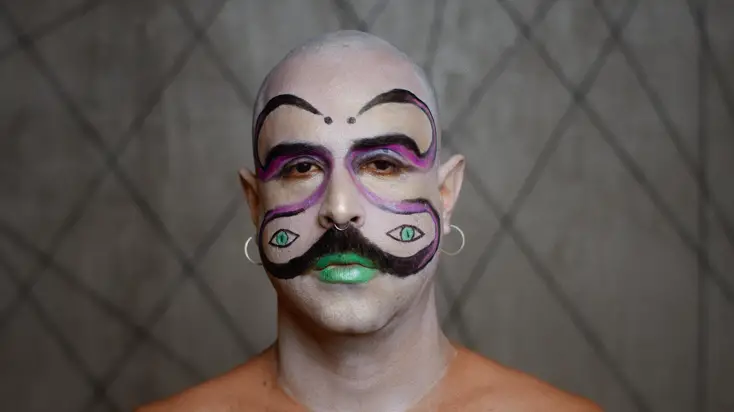 The band soul cream has just released more new material. This Monday (25), the Palhoça trio released the music video for "Eraserhead", a single that has been making waves on the networks in recent days. Available on YouTube, the video presents an intimate setting that contrasts with the intense and growing sound of the track. The material is part of the promotional campaign for the EP "Samsara", which is scheduled for release in early October.

Independent and original, the clip was produced and signed by the members of the Palhocense band themselves. In this sense, the script was prepared by Dierre Pichorz, Oliver Silvestre and Jorge Kloppel — who also directed the audiovisual production.

The musical production was carried out at Octopus Sound Box, with mixing and mastering work by Dierre Pichorz: the band's musician and protagonist of the clip. In the video, Pichorz appears in the foreground, being made up and bothered by Natasha Franke, Williana Teodoro and Oliver Silvestre.

To watch the result, simply access the Soul Cream YouTube channel: www.youtube.com/@somosasoulcream.

About the music

According to the band, "Eraserhead" aims to immerse listeners in a world of groovy sounds, while exploring the feeling of discomfort, with intense sound and intriguing atmosphere. The song was released on September 18th and can be heard at the link: https://linktr.ee/SoulCream.

The release of "Eraserhead" is part of the series of news that the trio has prepared for the coming weeks. Releases include new music videos and the EP "Samsara fleet", which will be available from October 2nd.

soul cream

Based in Palhoça, Soul Cream presents a full-bodied sound that mixes elements of R'n'B, rock, funk, blues and soul. In this style, the group released the EP "SOS The Same Old Stuff", in 2021, still as a quartet.

Recently, the band became a trio with Dierre Pichorz on vocals and guitars, Jorge Kloppel Junior on the bottom and Oliver Sylvester on the battery. In this new phase, people from Palhocens produced new materials and performed at important events such as the 4th Song Festival, in Rio do Sul (SC) and the Florianopolis Cultural Marathon. Furthermore, the band launched the video series "Chá da Tarde Sessions", with versions of famous songs. The trio is also part of the collective "A Bolha", which mobilizes artists from Palhoça and the region.

News about the band can be found on the @soulcreamoficial profile on Instagram.